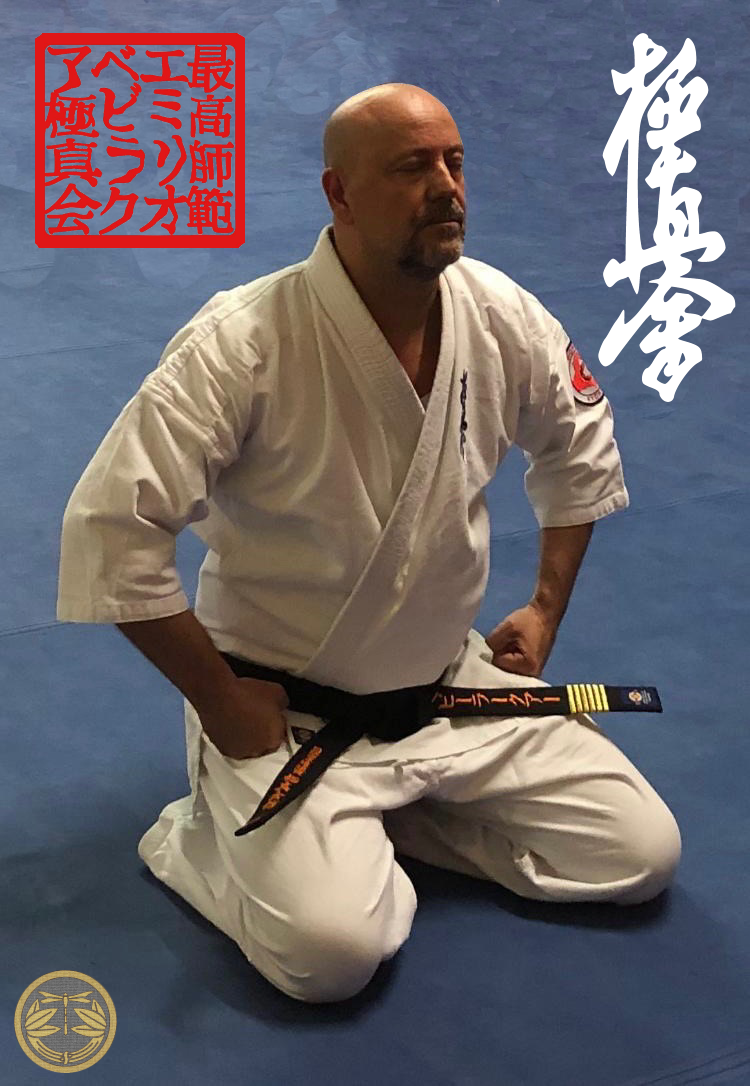 BIOGRAPHY
Saiko Shihan Emilio Bevilacqua
Emilio Bevilacqua born in Taranto (south Italy) in March 25, 1966.
He is Leader of Karate and Kenpo in Italy and in the world, as a young man he was operational in the special forces, today he is Saiko Shihan of Kyokushin Karate but his job has always been in the security and defense, currently his main job is of national security officier.
Emilio as a kid instead of playing ball like all his peers, he trained in karate, nunchaku and bo, and he using trees as makiwara. He starts doing Karate at the age of six, with Hiroshi Shirai group, at 12 after performing a Kata (Bassai dai) he is the youngest black belt of Shotokan, with the first Italian karate federation (FESIKA). His thirst for knowledge is extreme, absolute, and from 1977 to 1984 also study the traditional ju jitsu, He pass 1st Dan ju jitsu in 1981 and 2nd Dan ju jitsu in 1984 (FIKTEDA).
Emilio is chosen by Tadashi clan of the Kodaikan. In 1982 discovered the karate him dreamed of, the strongest karate of Masutatsu Oyama (Kyokushinkai), so He commute in Switzerland and He also go to Holland to study with Van Heumen sensei and other masters. He start his path as a competitive, He win the national kumite Open of Bologna in 1986 with the brown belt of kyokushin fighting against black belts. He gets 1st Dan IKO in March 1987 after 10 jiyu-kumite that passes with ease (test of five rings, London), he wins with 5 KO before the limit. Emilio join the Ryu Oyama IKA team of kumite and the summer camp in Japan in 1988: here he will meet Hiroki Kurosawa, with hard training Emilio learn to pull gedan-mawashi, and he develops his winning shots that he will use in kumite: mae geri jodan, hiza geri jodan, kakato mae oroshi, kaiten geri, ushiro mawashi, urakekomi, seiken tsuki, blows precise fast repeats. Emilio was educated by Tadashi clan for years, with Hidetaka and Nagae soke he studying Kenpo, Goshin, Ju-jutsu. He gets 2nd Dan IKO in 1989 with a perfect Kata (Seienchin) and after a difficult test of sogu-kumite.
Emilio pass 1st Dan Kenpo IKKA same year, his continuous stream of blows leave the commission breathless. After Emilio enter in Navy, he gets 3rd Dan of Ju-jitsu (1990) at Judo club of the navy schools (CEMM, Taranto), and after one year he become military instructor, pass the course of the second year and enter in special forces, become head Instructor of krav maga and rapid tactics of close combat and tactical knife. In the Navy, he will mature important and un common experiences in unconventional operations and combat strategies, his field experiences will form its character in a conscious way.
Emilio Bevilacqua is founder of Honbu Dojo in Italy since 1995, at the sports club Propatria Judo via Dante 5, Busto Arsizio (VA). Place where educational martial art will be taught, formative and effective according to the orientation of Master Bevilacqua, namely sports education with Karate, motor education with Kenpo, but also "real defense" education with a revisited system of the Israeli Krav Maga and based on his experience in the field when he was operating in Navy, a system that over time will take shape in TACTICAL (tactical combat system) - TCS 2008 - an intense and innovative progressive training system and military tactical training divided by professional categories and technical specifications: "every added value is an integral part of the system", this is the motto of his system.
Emilio in the early 1990s, with the rank of Karate's Sensei for sporting merits, disappointed for the fragmentation of IKO after Sosai's death (1994), will be Pioneer in Italy of Kenpo with seminars and with magazines as "Bruce Lee Kung Fu Magazine" of Giuseppe Bordini, in television with "Martial Arts Show" in 1995 and 1996. Receives recognition of 3rd Dan Kyokushin by IKO2 (Tokyo, 1998) after a national stage for the promotion of the discipline in the Lombardia region. In the same year, Emilio was "senior instructor" 4th Dan too for the Jeff Speakman's AKKS and he's appointed kenpo director for Italy. The Kenpo's innovative techniques of Emilio (wheel set) embarrass some masters of american kenpo, and after quarrels with Edward Downey, Emilio abandons Ed Parker's Kenpo for different inconsistencies in the program.
Emilio Bevilacqua was the pioneer of Kenpo in Italy for twenty years, highlighting his best Kenpo and promoting the first historic Italian Kenpo-Karate Association (AIKK), when no one in Italy knew what the Kenpo was, however, the kyokushin has always been the engine and the strength of his Kenpo. The Bevilacqua's Kenpo stands out from american kenpo by several factors: creativity, quality of movement, shock force and effectiveness; and it is the shock force in its continuous flow that strikes in the true sense of the word. The AIKK - Italian Kenpo Karate Association - had life and development until 2015, then the kyokushin sector took hold until its absorption with President Stefano Donati (4th Dan Kenpo and 3rd Dan Kyokushin).
KyokushinKai, a discipline that Bevilacqua has always wanted to cultivate in parallel with the Kenpo since 1985 and that since 2015, with his former mentor Andrey Soke Coulombe (8th Dan), has begun to give him satisfaction never hoped.
Sensei Bevilacqua gets 4th Dan Kyokushin at Kobe (2004) with other IKO after four days of examination and 40 kumite.
Bevilacqua pass Soke of JUTAI at the Dojo of Kobe in 2007, a niche school of the famous Dai Nippon Butokokai, the first historian organization of Japanese martial arts.
Between 2001 and 2008 there are many appearances of Emilio Bevilacqua on television (Rete4) and in martial arts magazines and fitness too, Emilio become an undisputed character of the martial arts and real defense systems.
Emilio Bevilacqua is in the Hall Of Fame for Karate in California USA, he was appointed in 2010 by Shihan Daniel Hect and Benny the Jet Urquidez, always the same year in California Emilio receives the Golden Ring for Excellence in martial arts with 21 karate medals, 6 world titles and 7 europe titles.
Emilio Bevilacqua gets 5th Dan of Kyokushin at Osaka (Kodaikan, 2011) and in 2014 he was nominated "Shihan" by Tadashi clan, a year later the appointment starts from Italian kyokushin group of the national sports who proposes him as Branch Chief for Italy. In 2016 Bevilacqua received more different occasions by different world groups of kyokushin for a Leader position, technical and political too, but Emilio remains a loose dog for some time after disappointing experiences with a couple of organizations IKO. In January 2017 Emilio received the Shihan Award from Tokyo. On July 6, 2017 from Japan he was offered the role of Europe president of WKKO (World Kyokushin-kai Karate Org) by Kancho Seishin Iwashita chairman of the Kaikan of Gifu in Japan.
Bevilacqua's path in Kyokushin Karate is sweaty, full of sacrifices, not as some masters who give themselves the title of shihan, his is by appointment of great masters and by designation from Japan, it has a very different weight. Kyokushin's sixth Dan was rejected by Shihan Bevilacqua on the day of his appointment as new Europe President, an official appointment that took place on December 9, 2017, directly by world president Kancho Iwashita, how many would do so? How many would have renounced the rank of sixth Dan by virtue of appointment as Europe President? No one, just a honest, serious and of integrity person like a real samurai, like Bevilacqua. In Kyokushin planet, we have the opportunity to verify sensei who until yesterday were fourth dan, after not even a year they are sixth dan, senpai who after two years pass shihan, this shows that there are those who jump from federation to federation to sell themselves and rise in rank, and those who remain silent to do their best, accumulating merits, and then being rightly honestly recognized by those who really count.
The facts remain facts, as one famous man said, the facts say that Emilio Bevilacqua is an icon, a talent like few, a great karate master and authentic kyokushin, a kenpo professor, former special forces military and head instructor of tactics and defense, recognized and esteemed above all by greats like him, also awarded overseas, an incredible character of the "martial arts that matter", a genius of the movement. Some of his moves are still unrepeatable, sometimes indecipherable, even for experts, agonists, and masters, Emilio Bevilacqua has a record of 227 victories before the limit for 371 kumite in 20 years of competition, but in the course of his life he has played several other matches behind closed and unofficial doors, for examination or grade passage, for training, sometimes for challenge or provocation.
Speaking of fact, from 2017 Emilio was the promoter number one of Kyokushin Karate for advertising it and making it known on national territory, through events, instructor camp, stage, media, web, radio, brands of sponsor, internships, initiatives, and television (Oriente TV, Canale Italia), the industry magazines (Samurai, Black Belt, Karate Magazine, Intl Kick Mag, Budo International, IKM International Kung Fu Magazine). In 2018, thanks to his position as European president of a Japanese federation, he tried to promote the unification of all kyokyshin groups and schools in Italy even with the media and sector magazines, but his efforts are in vain, the selfishness and ignorance of the other groups render useless his efforts to union and him willingly renounce a plan that is utopia.
Today Emilio Bevilacqua as Saiko Shihan, 6th Dan of Kyokushin, 7th Dan of Kenpo, Lifetime member of World Committee for the World KyokushinKai Karate Organization, and Europe President, and not only that, he is responsible of the sector weapons and kali combat for WKMA - World Krav Maga Association - since 2018. Saiko means "supreme", so Saiko Shihan It is a very important and rare title for Japanese culture, an unprecedented title for an Italian, as unprecedented have been in the past some of his achievements. Bevilacqua's appointment started in 2017 by the clan Tadashi, and on September 4, 2018 by Andrey Soke Coulombe and notified on October 18, 2018, Andrey Soke was a direct student of Sosai Mas Oyama and of Saiko Shihan Shigeru Oyama, for this reason he had the right to appoint a Saiko Shihan within a world organization recognized. The final appointment to Saiko Shihan and his noble rank shift has been official on March 13, 2019, after the international seminar at the Honbu Dojo in Busto Arsizio (Italy) through a solemn and documented ceremony, with a formal envelope and a WKKO certificate. The appointment and rank were personally formalized by Kancho Seishin Iwashita and by Andrey Soke Coulombe, seen by Kaikan of Gifu and not only, and it has been registered by KOI Kaikan and by World Kyokushin-Kai Karate Organization in Japan, in the presence of an illustrious commission of Shihan of High rank.
The World Committee present at that time: Hanshi Herbert Forster Org Executive Chairman (branch chief Switzerland), Shihan Marcel Smit the Honbu Cho (branch chief Holland), and the direct pupil of Bevilacqua, Sensei Stefano Donati the executive director and now also president of World Kyokushin Italia recognized in Italy by Sport Nazionale.
Inheriting a title that belonged to Shigeru (Saiko Shihan, rip 2016) is for Emilio Bevilacqua an incredible honor and recognition, an event but also a burden that he hopes to deserve over time. In the world there are very few who can boast such a rare and prestigious title.
Saiko Shihan Emilio Bevilacqua has resigned from WKKO on 15 September 2022 with formal letter to Kancho Seishin Iwashita and general secretary Shihan Herbert Forster. Saiko Shihan Bevilacqua is Vice President and National Technical Director of World Kyokushin Italia (WKI) and European referent for KODAIKAN of Osaka.
Dr. Ravazzani
Eu Press Office
WKI Europe Council
kyokushin@kenpo.it